Volunteer
Saved People Serve People
Hospitality Team / Guest Services at Rancho Campus
Hospitality: We take hospitality seriously. Ok, we smile a lot, too. We are looking for people who are friendly, have a ready smile, and are welcoming to all guests.
Usher Team: The goal of the Usher Team is to make all guests feel welcomed and cared for, efficiently serving and seating all guests, and reducing distractions as guests enter into and exit from a worship experience.  
Greeter Team: Greeters get to be the first point of contact as guests arrive on the church campus. We need folks who can smile, give a hug, and help guests make that transition from the parking lot to the worship experience. 
Host Team: So many new guests come to Skyline each week that we wanted a team to focus just on first-timers. That can include learning names, giving a tour of the facility, accompanying and giving introductions to the children's ministry staff, or giving introductions to a pastor. Who knows? You may be the person they're comfortable saying hi to when they return!
Parking Lot Team: With such a large campus (and several large parking lots) we want to make sure guests transition safely and efficiently from their cars to the patio and building areas. That's why we staff shuttles and also arrange help for guests to safely use our drop-off zone.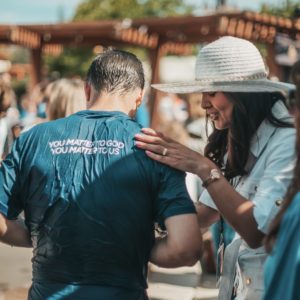 Prayer Team / Congregation Care
Pastor's Prayer Partners at Rancho: Pray over the pastor or Sunday morning guest speaker and worship team prior to the first service. We meet Sundays from 8:20-8:45.
Pray Over the Seats in the Rancho Auditorium: Walk the auditorium and pray over the auditorium and the seats, asking God to move in the hearts of the people who will be sitting in those seats during the next 2 services. Come pray over the seats from 8:00-8:30.
After Service and Prayer Room Ministry at Rancho: Pray individually with people who have come forward for prayer or to the prayer room. Church membership is required and training will be provided for serving in this ministry.
Prayer Card Writers: Write a word or scripture of encouragement to people who requested prayer. We provide the postage-paid postcard, you provide the encouraging word. 
Nursing Home Ministry: We have adopted 10 nursing homes where we go monthly to give a word of encouragement and hope to the residents. As nursing homes reopen after COVID, we need more people to give approximately one hour per month to minister to residents. 
Caring Meals Ministry: Do you enjoy cooking? Can you provide a meal to a family by using Grubhub or other dining services? We assist in providing meals to our congregation when a need for a meal arises due to a hospitalization, surgery, death, or other family crises. 
Hospital, At-Home Visits, and Calling: Will you be the "hands and feet" of Jesus to people who are either hospitalized or recuperating at home from an illness or surgery, and could use a word of encouragement by a visit or a phone call? A time commitment of approximately 2 hours a month would be appreciated.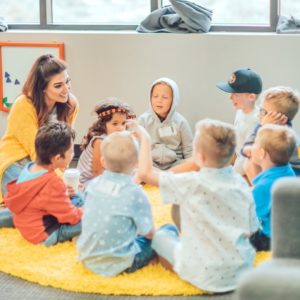 Skyline Kids
Small Group Leader: Dependable leader that chooses to be present in the lives of 5-7 kids to encourage authentic faith. This person should be present, consistent, reliable, and mature.
Small Group Co-Leader or Helper: Assists small group leaders in facilitating small groups and large groups. Responsible for 5-7 kids. This person should have the desire and willingness to become a small group leader.
Host: Bubbly, fun, attitude to facilitate large group sessions. This includes announcements, facilitating worship, and reviewing the story. This person should be able to capture kids' attention and keep control of the room. 
Hospitality: Responsible for greeting each child and family helping to make sure check-in & check out runs smoothly. Helps safety by ensuring each child has a name tag and each parent has a parent sticker. Assist ministry leaders with new families.
Tech: Responsible for all tech including computers, video, sounds, lighting, and TVs. 
Courtesy Patrol: Facilitate bathroom breaks, check parent tags to kids tags, keep ministry floors safe & doors secure.
Global Missions Team
Skyline Church sends, partners, and supports missionaries and organizations fulfilling the Great Commission. Help plan and serve on both short-term and long-term trips.  Climb aboard as we help people find and follow Jesus SEVEN days a week all over the world!
Worship Arts & Tech
Background Vocal (audition required): Sing with the worship team for Sunday Services and/or special events as well as Thursday evening rehearsals. Joyfully and skillfully lead the congregation in the praise of Jesus!
Instrumentalist (audition required): Play with the worship team for Sunday Services and/or special events as well as Thursday evening rehearsals. Joyfully and skillfully lead the congregation in the praise of Jesus!
Video Operator: Operate camera or direct video for rehearsals, weekend services, and special events.
Stagehand: helps with stage setup & props before, during, and after services. Moving, lifting & carrying items. 
Tech Assistant: Available to help tech staff with setups, rehearsals, and services. A good starting place to learn various aspects of service technology.
Audio Tech: Setup of all sound equipment make sure it is on and functioning before the band and worship team arrives, Control the sound mix for the services. 
Broadcast Audio Tech: Setup of all sound equipment makes sure it is on and functioning before the band and worship team arrives. Control the sound mix for the Livestream broadcast. 
Video Screens – ProPresenter/PVP: Operation of Computers to ensure that all visual elements of the service are on the right screens at the right time, in the right way. Display song lyrics and sermon points at rehearsals and during the services.
Light Tech: Program and operate the lighting console to provide appropriate lighting for each part of the service.
Breakfast Ministry: Prepares and serves breakfast on Sunday mornings for the worship/tech team and pastors. 
Cafe
Baristas: Operates espresso machines to make drinks on Sundays.
Blendistas: Blends delicious smoothies on Sundays.
Dish Washers: Washes dishes during busy service times. 
Table Bussers: Helps keep tables clean and tidy, helping to push in chairs and clean tables.
Greeters: Greet guests and also guide guests to other lines.
Morning Coffee Brewers: Arrive at 6:15am to brew pots of coffee for Sunday morning events.
Set-Up Team: Arrive at 7:00am to set up for Sunday services.
Clean-Up Team: Pack up and put away all items, sweep & mop, clean and sanitize all stations after Sunday morning services.
Small Groups
Connections Wall (Sunday Mornings): Help after each service at our connect wall. 
Small Group Leader: Able to lead a group of people by facilitating small group questions from our sermon notes.
Small Group Host: Simply hosting a group of people in your home with enough parking for group size.
Small Group Co-Leader: Simply support the leader and host and work as a team to make a great group 
Welcome Home Team: Helping make calls to those trying to get in a small group (Mid-Week)
Lakeside Campus Volunteers
Usher and Greeter: The purpose of our greeters and ushers is to serve visitors, guests, and church family alike, helping each person's needs and answering any questions they may have. Ushers/Greeters pass out bulletins and greet each guest that arrives on a Sunday morning. They are expected to arrive 30 minutes before service and serve for one service.
Prayer Team: The purpose of the Prayer Ministry Team is to facilitate the move of the Holy Spirit in individuals and pray for each individual that is requesting prayer. Prayer team members are expected to arrive 30 minutes before service and stay 15 minutes after service to pray for anyone that needs prayer in the congregation.
Security: The purpose of the Security Team is to make sure that the campus and congregation is safe and secure every Sunday morning. They are required to come 30 minutes before service and stay 15 minutes after service to ensure the safety of the campus.
Facilities: The purpose of the facility team at Lakeside is to keep our church beautiful inside and out. It takes a faithful team of staff and volunteers to accomplish these goals. Volunteers would assist with maintenance-related tasks around the facility, including building and grounds maintenance, landscaping, painting, woodworking, and Sunday setup. They are expected to arrive 30 minutes before service and stay 15 minutes after service.
Cafe: Come be a part of the Skyline Cafe team.  We help serve coffee drinks on Sunday morning!
Skyline Kids Lakeside: Looking for dependable leaders and helpers to help serve our kids at our Lakeside Campus.
Youth Department – High School
Sunday Morning Greeter: Show up on time, and get to know students. Be present with the students, and be willing to fulfill specific roles that may be needed with the High School Youth Pastor discussed beforehand.
Sunday Morning Check-In: These volunteers make sure everybody is checked in and accounted for every week. 
Sunday Morning Set-Up: Every week, we have a lot to set up in the room, and this team makes sure that the room and service are set up so that students have a clean, excellent, and consistent environment every Sunday.
SkyHigh Community Group Leader and Volunteer: Lead a community group of students from 9th-12th grade and be at pre-service meetings to go over the material. 
SkyHigh Tuesday Volunteer:  We have 4 volunteer teams on Tuesday that we need help with that don't include leading a small group. These teams help greet, connect, and set up the room which helps us create a healthy environment for students to thrive and connect with Jesus. 
Event Volunteer: Help out at monthly events (security, cooking/serving food, clean up, set up, etc.).
Youth Department – Middle School
Sunday Morning Middle School Service Adult Volunteer: Be a positive adult role model in the middle school service. You will connect with kids before and after, and help students stay focused during the service.
Rewire Small Group Leader: Lead a small group of middle schoolers from 6th grade through 8th grade. Show up prepared to lead the group through the week's material.
School Club Volunteer: Assist in the programming of the club, leading games, and teaching lessons.
Special Event Helper: Be available to help with special event needs (security, cooking/serving food, and cleaning up).
Security
All noted below positions' purpose is to ensure the safety of our Skyline congregation, their families, and guests along with our senior pastor Sunday mornings and all ministry events. To represent a safe, friendly, and protected environment by being a visible deterrent to those considering ill intention. Skyline Security Volunteer is expected to serve one Sunday service weekly and sign up for at least one event per month. There is a required background check and interview process for eligibility of service. 
Skyline Security Volunteer: Sunday morning service at Lakeside or Rancho Campus. Reports to the Skyline Security campus lead, arrival time is 30mins prior to service. Posts are assigned and radios are distributed each service. Duties: Observe attendees during arrival, attendance, and departure of services and events reporting any irregular and or suspicious activity. Watch for and report irregularities, such as suspicious persons, packages, hazards, etc. Accurately record data using Skyline incident report form, such as property damage, personal injury, unusual occurrences or behavior, etc.
Skyline Security Volunteer, Ministry Events: Reports to the lead assigned to that event or is the sole volunteer, in some cases, representing a safe, friendly protected environment by being a visible deterrent. Performing the same duties as would a Sunday service.
Community Outreach
Join this team and be a part of the overall planning, development and deployment of events such as Random Acts of Kindness, Local Serve Day, Backpack Drive, Father's Day Car Show, Trunk or Treat, etc.
Graphic Design / Photography
Print, Digital, and Motion Graphic Designers: We create a lot of graphics at church. We are looking for volunteers who can help create and design various materials for print and digital. We can use help with creating eye-catching graphics and engaging designs. It is a benefit if you have experience using Adobe Suite programs: Photoshop, Illustrator, InDesign, After Effects, Lightroom.
Photographers: We love capturing all that is happening at Skyline Church. We are looking for photographers who have experience shooting lifestyle portraits and know how to capture the special moments that happen on campus.
Connections / Assimilation
Connections Wall (Sunday Morning): Help after each service at the connect wall. 
Baptism Team: Help with all the details of baptism, check-in & passing out t-shirts.
Welcome Home Team: Helping Make Calls On Tuesdays To New People
Membership Dinner (Team): Many roles within helping with our membership dinners: Greeting, Hosting a Table, Helping with Food Service, Prep-Team, Clean-Up Team, Follow-Up Team, and Welcome as Members Team (Mid-Week).
Men's Ministries 
Help support men in their roles as husbands, fathers, and faithful followers of Christ. Leadership opportunities are available in this vital ministry.  There are always opportunities to serve in the various men's events: Men's monthly gathering, Men's breakfast, Men's Annual Retreat, Men's Superbowl Event, and the Dad's Campout.
Women's Ministry
Event's Team: Help with 5 main women's events throughout the year. 
Discipleship Leader: On a team with other women who are mentoring new believers who come into the ministry.
Small group Leader: Looking for women to lead a small group or serve as a Women's Bible Study leader who leads a group Thursday mornings or evenings with the WBS team!
Co-Leader: This is someone who supports the main leader and can fill in at any time needed.
Prep Team for WBS (AM): This team helps set up WBS each Thursday morning.
Clean-Up Team for WBS (AM): This team helps tear down/clean up WBS Thursday morning. 
Prep Team for WBS (PM): This team comes early on Thursday evening to help greet and set up anything for Thursday night bible study.
Clean-Up Team for WBS (PM): This team helps tear down/clean up WBS Thursday evenings. 
Welcome Home Team (Calling and Welcoming New Women): This team calls our newcomers and those interested in bible study, new to the faith, or interested in hearing more about Jesus.
Connections Wall (Sunday Mornings): This is a team that comes and greets at the connect wall after each service. 
Online Church Campus
Online Host: Online Hosts are like your welcome, next steps, and prayer teams—all in one. They play the important role of greeting attendees in the chat, answering questions, sharing helpful links and resources, and praying for people through one-on-one prayer.